Jim Carrey Out of Dumb and Dumber Sequel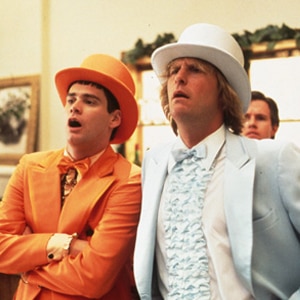 New Line Cinema
Whether it's an incredibly dumb move or a smart business decision is anybody's guess.
A little more than two months after the erstwhile
Yes Man
announced
he was game to reunite
with directors
Peter
and
Bobby Farrelly
and costar
Jeff Daniels
for a long-awaited sequel to their 1994 hit
Dumb and Dumber
,
Jim Carrey
is now officially saying no to the project.
So just what the heck led him to change his mind?
Sources told
ETOnline
that the funnyman wasn't feeling the love from executives at New Line and Warner Bros., who in his view "showed a lack of enthusiasm" for the reunion, which supposedly was due to be titled
Dumb and Dumber To
.
Carrey's rep confirms the report to E! News. "I would have thought Dumb and Dumber To was a no-brainer," the star said in a statement. "After all, it's implied in the title."
Perhaps the studios weren't psyched about the disappointing box office of the Farrellys' latest slapstick venture (and passion project),
The Three Stooges
, which grossed a tepid $43 million. No doubt the duo expected a follow-up to one of their comedy classics would get them back on track.
That and the fact that Dumb and Dumber fans have been clamoring for it for a long time, especially in the wake of Dumb and Dumberer: When Harry Met Lloyd, the prequel New Line released—which the sibling helmers were not involved with—that grossed a weak $39 million worldwide.
Either way, Carrey's exit would mean
Dumb and Dumber To
, which was due to start lensing in the fall, might now never be made. Fans can take heart though: The comedian will be returning to the big screen next year playing a dangerous street magician opposite
Steve Carell
in the comedy
Burt Wonderstone
.
Reps for the studios were unavailable for comment.